When I saw the headline "Diet Coke is launching ... a nail polish?" my first thought was "I'm not sure if people will go for a bubbly brown colour". When I clicked on the article it was something a bit different.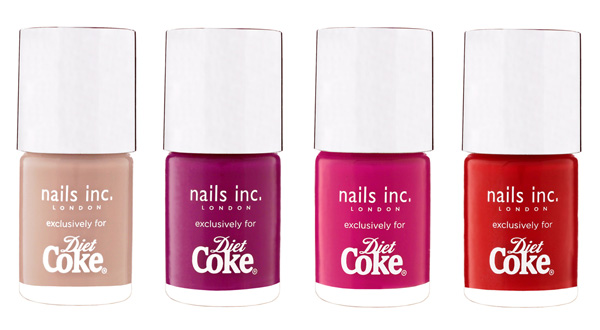 Apparently the colours are inspired the four major world fashion capitals. From left to right:
London - beige shad signalifying Brit passion for cool fashion
Paris - deep purple, picture a sunset over Eiffel Tower
New York - vibrant pink, a nod to the city's attitude
Milan - fiery Italian red
The colours are very wearable (I'm not a fan of unusual nail polish colours). From the photo above, my pick is the New York pink.
If you're in the UK, you can get them for free from Boots stores if you purchase 2 x 500ml bottles of Diet Coke. Otherwise they will be available at asos.com for £10.50 each (I checked, they're not there yet).
I do like nail polish but I'm hopeless at applying them. Maybe I'll get a mani and pedi tomorrow as a Mother's Day treat?