No, this is not a naughty dessert post ;-)
It's about one of my favourite sporting events - Wimbledon.
Long time
CCM
readers may remember my trips to Melbourne for the Australian Open
last year
and
this year
.
Tennis in the #1 spectator sports for me. I was obsessed about it in my teenage years.
Other kids my age went for pop stars but my bedroom was covered in posters of my favourite tennis players. I used to buy the newspaper just for the tennis results (kiddies, there was a time when the internet was not omnipresent!). I kept a scrapbook with cut-out of tennis articles, read my tennis magazine cover-to-cover, and even took photos of the the TV screen so I can have photos of my favourite players *shame*.
I was obsessed with Wimbledon. For those 2 weeks I stayed up late to watch the tennis, at least until my parents hauled me to bed. Our trusty VCR in the lounge room had a long-play function so I could record 6 hours of tennis overnight. After school the next day I would rewind the tape than hit "fast forward" until I find the matches I wanted to watch. Sometimes I would come across a gem - a feature on one of my faves, which I would watch it over and over and over ...
My all-time 3 favourite players are all Wimbledon champions:
1. Stefan Edberg
Oh how I loved him! The blonde hair, the beautiful smile, the brilliant backhand and master volleys ... what a package!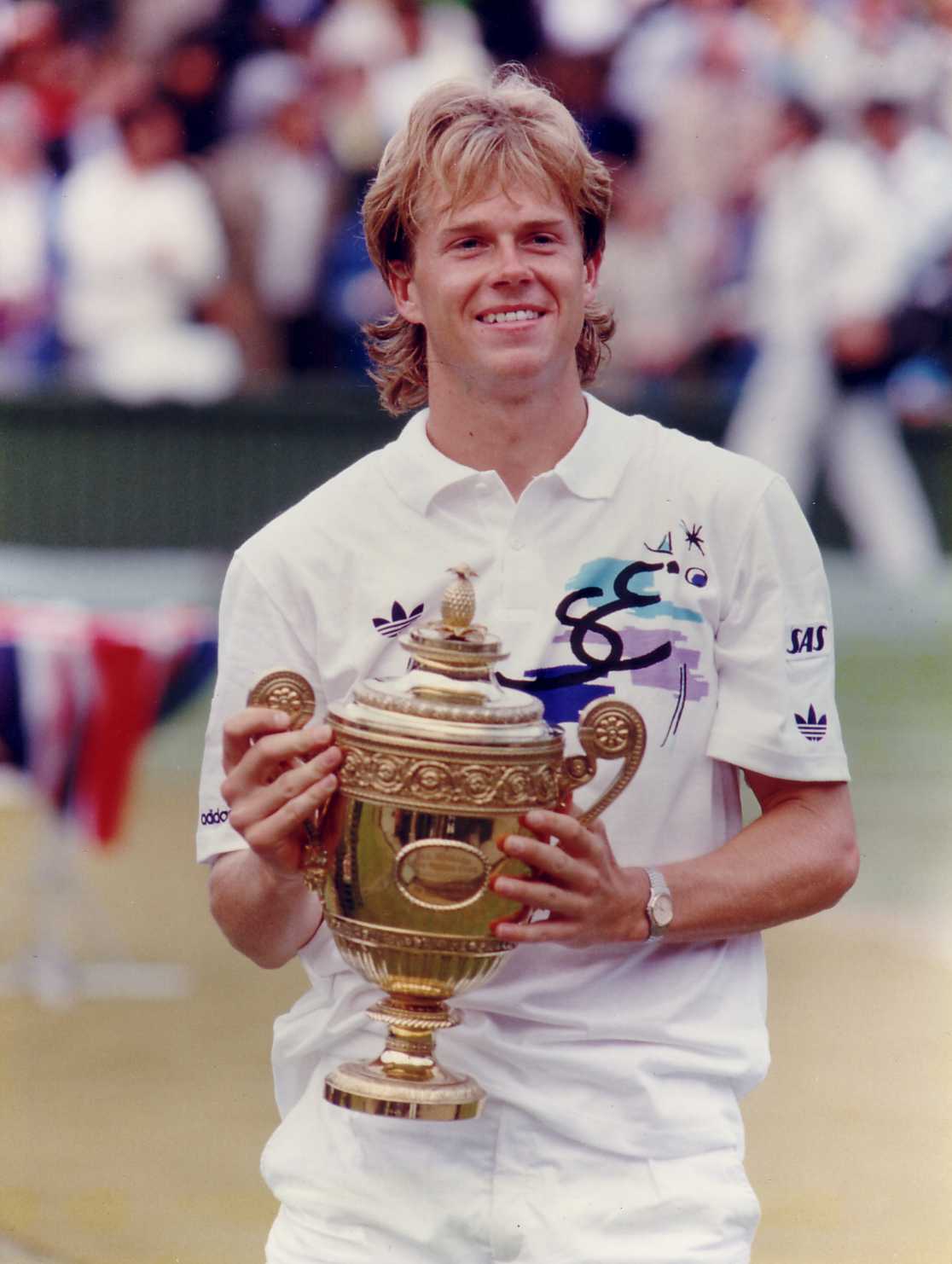 I was so awe-struck when I saw him in person at the Sydney Indoors in the early 90's. He was at one of the practice courts (in pink shorts no less!) and I managed to get an autograph (he only signed 3!). Man I was stoked! I went outside and called my bestie on the public phone and told her all about it. Ahhh those were the days.
There are lows with being a tennis fan too. When he lost at Wimbledon in 1991 to eventual champion Michael Stich without losing his serve once (he won the first set 6-4 and lost the next 3 in tie-breaks, yes I remembered the score without googling), I was so angry and sad and many tears were shed.
To prove the endorsement worked I bought a Wilson racquet and Adidas tennis gear; unfortunately you can't buy talent or skills ...
2. Andre Agassi
Who can say no to the bad boy of 90's tennis?
Agassi is all charms and his returns and footwalk are legendary.
I can still picture him falling and kneeling on the grass when we won Wimbledon in 1992, his first Grand Slam.
Reading his autobiography
Open
was a big relevation. Who would have thought a tennis Hall of Famer hated the game? And the work that he has done since his retirement with charter schools in the US is an inspiration.
To this day I still find it incredible that he is married to Steffi Graf, my favourite female tennis player. Look how cute they were at the 1992 Wimbledon Champions' ball!
If their kids inherited their parents' tennis genes, they will be unbeatable!
3. Goran Ivanisevic
Look, I embrace all types of players, and Goran is a worthy representive of big-servers. When his serve was on his opponents had no chance.
Like the rest of Australia I was glued to the TV on "People's Monday" for the 2001 men's final, but unlike the rest of Australia I was going for Goran instead of Patrick Rafter. My heart skipped a bit every time Goran served a double fault.
When he finally won in the fifth set I was brought to tears again, this time they were tears of joy.
One of the best things about Goran is his funny quotes:
"In every game I play there are three players in me that could surface anytime, Good Goran, Bad Goran, Crazy Goran! They can all serve aces."

"The trouble with me is that every match I play against five opponents: umpire, crowd, ball boys, court, and myself."

"Today's players, they do not know how. If you are going to throw it, you break it. You have to show commitment." (on throwing rackets)
Ah, what a trip down memory lane! I miss the exuberance of youth :-D
I still enjoy watching tennis now but I don't go for any players, I just like to watch good matches.
On that note I should go now. 7Two is broadcasting the tennis live from 9pm (no tape delay, yeah!) and Dokic is playing on centre court tonight. Go Aussie!